The recipes Ruth, the kitchen slave, used in the first Pirates & Petticoats novel, Hart's Desire, to create her scones, bannocks, brandied fruit and Indian corn mush were inspired from the story of Emily Warton. Anne Sinkler Whaley LeClercq published Emily's journal in An Antebellum Household Journal Including the South Carolina Receipts and Remedies of Emily Warton Sinkler. I purchased the hardcover in Charleston when touring a plantation home.
If you'd like to try the recipes or read about Emily's life and times, you can purchase this fascinating book on Amazon:
The recipes are fun to try, however, I have also included more modern versions. Enjoy!
Here's a recipe for Ruth's Corn Mush. It rocks when it's drizzled with maple syrup!
CORN MUSH (gluten free, I might add)
Bring 3 cups of water to a boil.
Mix together 1 cup of corn meal, 1 tsp salt and 1 cup of milk
(*NOTE: Keep in mind, just like anything, the quality of the corn meal influences the flavor of the dish. I've had SUPERBLY flavored mush and stuff I wouldn't fed a cow.)
Using a whisk to defend against lumps, slowly pour the corn meal mixture into the boiling water.
Stir until it comes to a boil BUT FOR THE LOVE OF PETE, DON'T QUIT COOKING IT!
Put it on low and allow the moisture to cook out of it for about 20 minutes, depending on the corn meal and the heat level. STILL stir it every minute or so while you're reading the paper or watching the Hallmark Channel.
**Here's how you know it's done: you can part it with a spoon like Moses parted the Red Sea; the spoon you're using to stir it will stand by itself when stuck into the middle of the mush; if you pull a spoonful out of the pot and turn it upside down, it will defy gravity and stick to the spoon.
Pour into a loaf pan, or casserole dish, whatever. After it cools (easier if you refrigerate it overnight, but if you cook it long enough to where it's sliceable when it cools, you're golden) slice it about a fourth of an inch thick, and fry it in a pan filled with a fourth an inch of oil. (Hey-no one said this was low cal, just delicious).
It takes a while to fry mush. You want it golden brown around the edges. The color will change from a pale yellow to a sunflower yellow. Drain it on a thousand paper towels. (Yeah, I squish it to get most of the oil out).
Serve warm. I love it plain or slathered with syrup. Your choice. Enjoy.
Oh…heh…heh. Sorry about the pot. To make it an easier clean up, add a couple of cups of water to it along with a teaspoon of baking soda and bring to a boil. Plop the lid on it and turn off the heat. Let it sit there until it's someone else's turn to do the dishes. In our family, we call them 24 hour soaking pots. Good luck.
SHIRRED EGGS
12 strips bacon
2 tablespoons diced bell pepper
2 tablespoons diced onion
6 medium-size eggs
6 teaspoons heavy cream, divided
4 teaspoons grated Parmesan cheese, divided
Freshly ground black pepper, to taste
Garnish: fresh herbs or 2 sprigs fresh chive, or grated Parmesan and a pinch kosher or sea salt
Instructions:
Preheat your oven to 400° and set a rack to the middle position. Arrange the bacon strips on a parchment-lined rimmed baking sheet or a wire rack placed inside a rimmed sheet pan and cook until lightly browned but not crisped, 12 minutes. Remove from the oven and reduce the temperature to 325°.
Lightly grease 6 muffin cups (or 6 7-ounce ramekins), and line the sides and bottom of each with 2 bacon strips. Combine the diced pepper and onion in a small bowl, and spoon 1 heaping teaspoon of the mixture into the bottom of each cup, followed by 1 cracked egg. Add 1 teaspoon of cream, ½ teaspoon of Parmesan, and black pepper to taste.
Bake until the egg whites are opaque, 12 to 15 minutes
Serve in their ramekins, or use a spoon to transfer them to a small serving dish. Garnish with herbs or chive, or a bit of grated Parmesan and a pinch of salt, and serve warm.
OPTIONS: use shredded hash browns instead of  bacon(brown them first before adding the egg).
Use any kind of cheese or vegetables you prefer.
Top with salsa, avocado slices or toast points.
BANNOCKS
(Originally a Scottish bread) evolved to this recipe in the low country where corn meal was more plentiful than oats :
Boil 1 pint of milk and whisk in 1 pint of Indian Corn Meal. (Yep…use the same container to measure)
Beat well the yolks of 4 eggs with 1 pint of cold milk.
Add the 4 egg whites.
Add 1 tsp baking soda.
Add 1/2 tsp salt
Bake.
Yup. That's the recipe. I did some experimenting and found that if you make 1/2 inch thick, round, scone-like patties, about the size of a dessert plate, and place on a cookie sheet and bake at 350 for about 12 minutes they turned out fine. Traditionally, you would grease a cast iron skillet and cook on the stovetop. 15 minutes for the first side, about 10-12 on the other side.
SCONES
Combine:
3 cups of Flour
4 T. Sugar
1 T. Baking Powder
1/2 tsp Salt
Cut in 3/4 cup of Butter with 2 knives used scissor-fashion until you have coarse crumbs
Separate 1 large egg, and put the yolk into 1 cup of milk and then stir it into the crumbs until just mixed.
Separate  dough in half and put one-half on each end of a baking sheet. Using your hands pat each into a circle about 7 inches round.
With a floured knife, cut each circle into 6 wedges, but do not separate them.
Beat the egg white with a fork and brush the tops of the dough rounds.
Options: gently press raisins, dried cranberries, raw pumpkin seeds, or chocolate chunks onto the tops and bake 25 minutes at 400 degrees.
MARCEL'S RECIPES from Hart's Passion (Book Two)
A note from Marcel:  Preparing Salted Fish – "Add a glass of vinegar to the water in which you soak your salted fish, it will fetch out most of the salt."
HARD TACK 
3 cups of white flour
2 teaspoons of salt
1 cup of water
A cookie sheet
A mixing bowl
A knife
A common nail
1. Preheat your oven to 375°.
2. Mix the flour and salt in a bowl.
3. Gradually mix in the water until you form a dough that doesn't stick to your hands.
4. Use a rolling pin to flatten the dough into a square. Make sure it's no more than half an inch thick.
5. Cut the dough into 9 squares.
6. Using the nail, make a 4×4 grid of holes in each piece.
7. Put the pieces on an ungreased cookie sheet and bake for 30 minutes.
8. Turn the squares over and bake for another 30 minutes.
9. Remove from the oven and allow to cool.
So…hard tack is rather bland for our palates but adding garlic salt or onion powder helps a bit…
Keep in mind these biscuits were usually served with something else, like gravy, soup, coffee or grog, so soaking it does make it easier to chew.
**Eating it dry can certainly crack a tooth!**
(Recipe courtesy of http://urbansurvivalsite.com)
As an aside…The Amish make a similar biscuit that they give to teething babies. I made them for my crumb snatchers and they loved them. They never finished a single one, though. Those things were so hard and solid that the best they could do was make them gummy for a little while. Eventually, the dog ended up with them. I think he buried them in the shrubbery.
Hard tack is a lot like a teething biscuit…
TEETHING BISCUITS
Break 2 eggs into a bowl. Stir in one direction until creamy. (I don't know why, maybe it's an Amish superstition, just do it).
Add 1 cup of sugar.
Continue stirring in the same direction. (Again, just go with it).
Gradually, add 2 to 2 1/2 cups of flour and continue stirring until mixture is stiff (I'm still assuming we stir in the same direction, just doing as I'm told like a little lemming).
Roll out to a thickness of 3/4 inch. That's honkin' thick, but we want to make sure pieces won't easily break off, right?
Here's the fun part: the Amish recipe says to cut out donut shaped cookies, which makes sense for little hands to grip. I used a dog bone shape (c'mon…the dog ended up with them anyway) that was easy to grip, but had an end that wouldn't fit entirely into the baby's mouth (otherwise we have a gagging issue, blech). Feeling sentimental one day, I used hearts. Donuts are probably your best bet. If you don't have that shape, use a drinking glass and a shot glass. (Yeah, well, we all make do, don't we?)
HOPPIN' JOHN
1 1/2 cups dried black eyed peas
2 smoked ham hocks
1 chopped onion
1/2 tsp. Crushed red pepper flakes
Salt and pepper to taste
4 cups of water
Put everything above into a pot, cover and bring to a boil. Reduce heat to medium-low and cook for 1 1/2 hours
Remove ham hocks from pot, and take meat off the bones and cut into pieces and return to the pot.
Add 1 1/2 cups of rice to the pot, cover and cook until rice is tender, about 25 minutes.
Do yourself a favor, use fresh, good quality rice, it really does make a difference.
Top with shredded cheese, if you'd like, or hot sauce. I'm a bit of a dare devil, so I add both.
Chloe Flowers's books on Goodreads
Shrimp and Grits
This is a southern favorite and after you make it, you'll understand why! You'll need one pot and one frying pan.
Mix together and bring to a boil in the pot: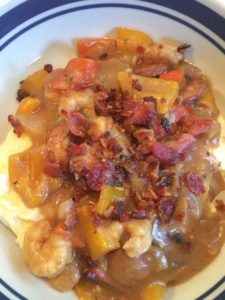 1 cup grits (coarsely ground is best)
3 cups water
2 tsp. salt
Once boiling, add:
2 cups half-and-half
Put the lid on and simmer on the lowest setting for 15 to 20 minutes (stir every 5 minutes) then set aside. Keep the lid on so it stays warm.
Mix together and set aside:
2 pounds shrimp (peeled and deveined)
1 pinch of cayenne pepper
Juice of 1 lemon
In a large skillet:
1 pound of Andouille sausage in ¼-inch slices (one time I had to use summer sausage, and it still tasted marvelous). Fry until browned, remove from skillet and set aside.
Add 5 or 6 slices of bacon to the skillet and fry until crispy. Remove and drain on paper towels. KEEP BACON DRIPPINGS.
Here's where you have a little bit of creative license. Use some (or all) of the drippings to cook the peppers, onions and garlic. The bacon flavor adds so much dimension to this dish. You can also include sliced mushrooms, zucchini, hot peppers (if you're a stunt double), or stay with the tried and true peppers, onions and garlic.
Add into the large skillet:
1 green pepper, chopped
1 red pepper, chopped
1 yellow pepper, chopped
1 onion, chopped
1 tsp. (or 2 cloves) garlic, minced
Cook about 8-10 minutes until onions are translucent. I like the veggies a little on the crunchy side, so I cook them less, but if you want them soft, go the full 10 minutes.
Put the veggies in a bowl and set aside.
In the large frying pan, add:
1/4 cup butter (the real thing–now is not the time to use some fake butter spread, trust me.)
When the butter is melted, add:
1/4 cup flour
Turn heat to LOW.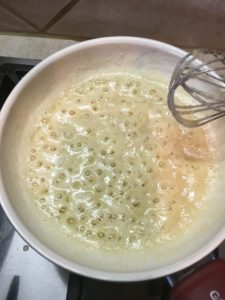 Stir constantly until the mixture turns a color between coffee with cream and caramel. 8-10 minutes. WATCH IT! It'll burn easily. You've just made a roux.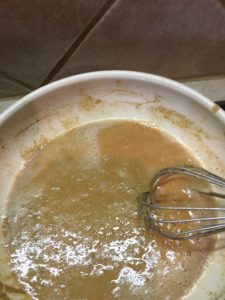 Add the sausage and veggies to the roux and stir until coated, then add:
1 cup chicken broth
1 T. Worcestershire sauce
Increase to medium heat. Stir well and cook for about 5 minutes, or until the sauce begins to thicken. Add:
2 pounds of peeled and deveined shrimp
Mix together and either top with a lid or occasionally stir until the shrimp turn bright pink (should take about 3 minutes).
Take the lid off the grits and add:
1 cup shredded cheddar cheese
Stir well.
Put a healthy spoonful of cheesy grits on a plate and top it with another healthy spoonful of the shrimp mixture.
Top with crumbled bacon and enjoy!