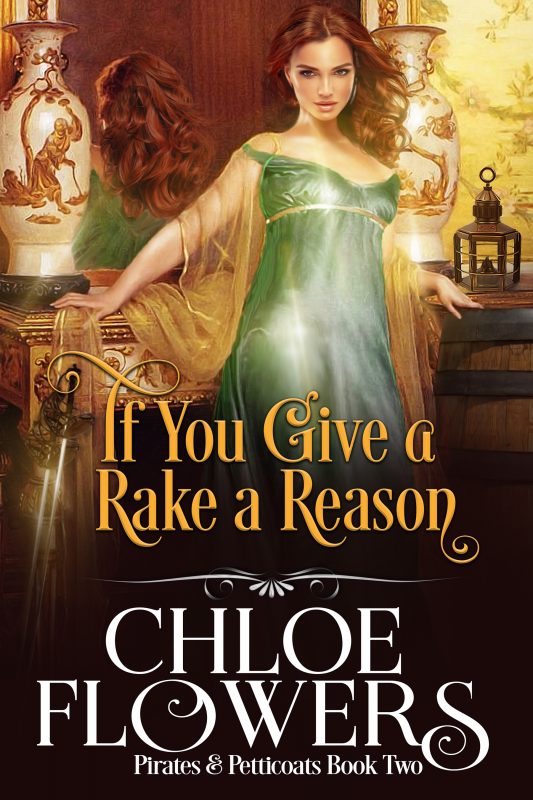 If You Give a Rake a Reason
Action. Adventure. Pirates. Kidnappings. Revenge. Secrets.
Pirates & Petticoats Book 2
About the Book
If you give a rake a reason, he'll covet a caress to please him…
*NOTE: This is the *SEXY version* of the novel The Heart of a Rake, (Book 2 of The Hearts of Adventure Sweet Romance Series).
A deathbed confession. A dark plot of revenge. A band of ticked off pirates.
What else could possibly go wrong?
Her father's last words spin Keelan Grey into a dangerous plot of revenge. As enemies close in, she is forced to act a charade and soon her life depends on her playing the part. Now, with the mystery of her true identity to be solved, she must rely on her wits and skill with a blade to both survive and defend the man she loves.
Smuggler and ship's captain Landon Hart has secret cargo to deliver up north, but when pirates kidnap the impetuous beauty who stole his heart, he prepares for battle. Rescuing her turns out to be the easy part. With a bounty on her head that has too many watchers out looking for her, keeping her close seems like a good plan.
Until she disappears.
If you enjoy reading about strong heroines, charming smugglers and romance mixed with action, intrigue (and a few laughs) you'll love this series. Start the adventure today!
(Want clean and wholesome romance instead? Read Chloe Flowers' The Hearts of Adventure Sweet Romance Series!)
Other Books in "Pirates & Petticoats"
Disclosure of Material Connection: Some of the links in the page above are "affiliate links." This means if you click on the link and purchase the item, I will receive an affiliate commission. I am disclosing this in accordance with the Federal Trade Commission's
16 CFR, Part 255
: "Guides Concerning the Use of Endorsements and Testimonials in Advertising."