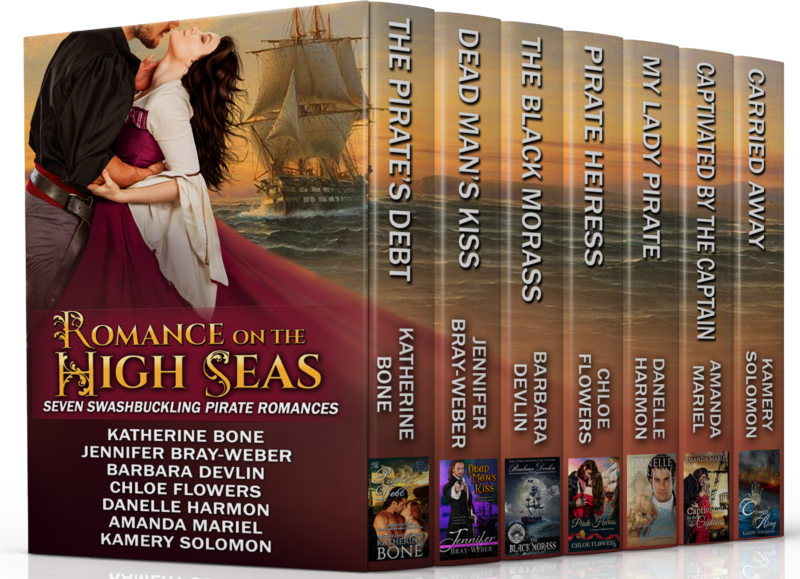 PREPARE TO BE BOARDED!
If you love historical romance, pirates, action, adventure and thrills, you'll love this 7-book set by these award winning and best selling pirate romance authors!
About the Book
Buy on Amazon  Buy on Kobo   Buy on iBooks   Barnes & Noble
Pirate romance, action and adventure abound!
These best-selling authors of Pirate Romance take you on a thrilling and epic high seas adventure with seven swashbuckling romances sure to satisfy the pirate lurking in your heart.
The Pirate's Debt by National Best-selling Author Katherine Bone:
An earl-turned pirate is ordered by his benefactor to find an adventurous young runaway and return her home.To do so, he must retrieve her without being discovered by the most ruthless pirate hunter on the seas: her brother.
Dead Man's Kiss by Award Winning Author Jennifer Bray-Weber:
Eight weeks. That's all pirate captain Valeryn Barone has to escort a tempting naturalist untouched across the Caribbean or face the gallows. Can he resist the beauty who's fallen for him? Does a dead man walking even have a chance?
The Black Morass by USA Today Bestselling Author Barbara Devlin:
In exchange for a chance at redemption and pardons for his crew, Jean Marc Cavalier accepts a pact that could result in liberty or death, if only he can survive the terms, but at least he will be free.
Pirate Heiress by Award Winning Author Chloe Flowers:
Captain Conal O'Brien has already lost control of his ship to the most unlikely band of pirates sailing the seas. If he's not careful, he's going to lose his heart to a notorious lady pirate determined to destroy both. 
My Lady Pirate by NYTimes Bestselling Author Danelle Harmon:
The sea delivers a handsome castaway to Pirate Queen Maeve Merrick's island. But her handsome prisoner harbors secrets dark enough to change the fates of nations and threatens their new found love.
Captivated by the Captain by USA Today Bestselling Author Amanda Mariel:
What happens when an American shipping company heiress crosses paths with a pirate? Can two people whose life paths are at odds find common ground?
Carried Away by Kamery Solomon:
After falling through time and being forced to join a pirate crew, Mark Bell falls in love with his fellow time traveler, Samantha. She's a woman he can't have, though. Will their presence in the past alter the future they know and love?
Disclosure of Material Connection: Some of the links in the page above are "affiliate links." This means if you click on the link and purchase the item, I will receive an affiliate commission. I am disclosing this in accordance with the Federal Trade Commission's
16 CFR, Part 255
: "Guides Concerning the Use of Endorsements and Testimonials in Advertising."