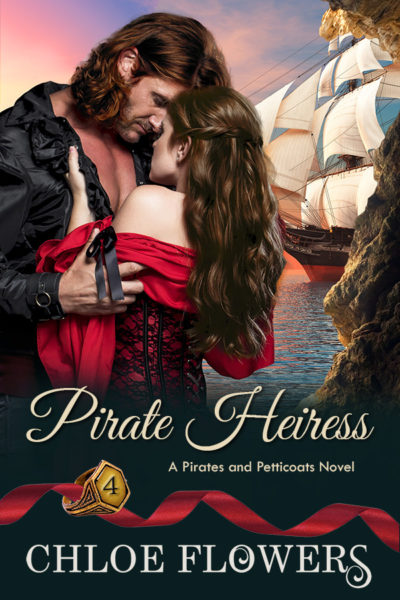 A beautiful pirate, a vengeful sea captain and a secret treasure…will love save them or destroy them? When Captain Conal O'Brien discovers that the pirates work for his sworn enemy, he doesn't resist capture. What better way to locate Gampo's secret stronghold than to sail right into it? But these nutty brigands aren't who they seem to be, and if Conal's not careful, he's going to lose his heart as well as his ship to the woman determined to possess both. A high seas, historical, pirate romance filled with action and adventure, mystery and intrigue, and a quest for hidden treasure!
About the Book
Buy on Amazon Buy on iBooks Barnes & Noble Buy on Kobo
"Pirate Heiress is populated with memorable characters and sure to please readers who enjoy historical romance spiced with swashbuckling adventure."
-Net Galley Reviewer
Prologue
June 1811
New Orleans
Standing among the charred debris of his family's boarding house in New Orleans, Bernard Sauvage lifted a blackened marble box from the rubble. Nearby, his sons as well as his late brother's children were salvaging what they could, shifting bricks and burned beams.
The smoke-scented morning was hushed; they'd lost everything.
Bernard shifted the box in his hand well enough to remove the lid then sucked in his breath. Two roughly cut emeralds rested on a stack of letters. He stared for a moment before brushing them with his fingertips, half expecting them to dissolve into dust.
They were real.
He fingered through the yellowed parchment. The first letter was dated almost 100 years ago. He scanned it and raised his eyebrows in shock at the signature.
It had been written by the notorious female pirate, Anne Bonny.
Bernard moved to an upturned water trough and sat to read. A short time later, he replaced the letters in the marble box along with the emeralds. The lady pirate hinted that she'd hidden a fortune in jewels just before she and the crew of the Gallant had been captured.
It was a risk, but if he could find the treasure, he and his family would be able to rebuild what they had lost.
His brother had five children. The youngest were eight year-old twins; Julian lowered a box of blackened silverware to the ground, and Jacqueline put a bent serving tray and three blackened dice on top.
"What did you find, Uncle Bernard?"
"Can we see?"
Bernard smiled and rubbed the cool marble. "Our past. And our future. Go get the others. We're going on a journey."
"This is a stand-alone story by this author, although some of the characters in her Hart saga appear in this pirate romance. I just gave it away, didn't I? It's a super duper pirate romance and I loved it! As in the Hart saga, there are a couple of old mysteries to be solved, some with written clues and some with innuendo and family histories, but the mysteries add to the spice in this adventure story. It is also a story about family and the love between its members as they fight danger, kidnapping and high seas drama. It captivated me from page one to The End and I heartily recommend it."  -Amazon reviewer
Other Books in "Pirates & Petticoats"
Disclosure of Material Connection: Some of the links in the page above are "affiliate links." This means if you click on the link and purchase the item, I will receive an affiliate commission. I am disclosing this in accordance with the Federal Trade Commission's
16 CFR, Part 255
: "Guides Concerning the Use of Endorsements and Testimonials in Advertising."