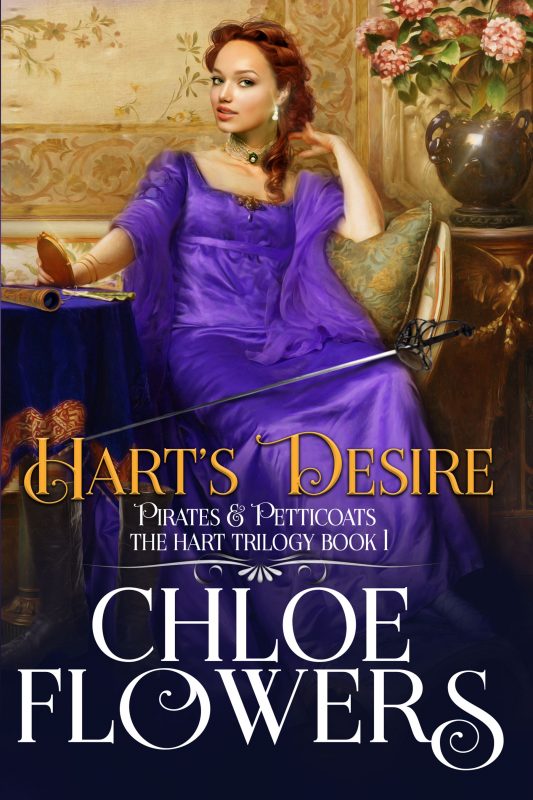 An independent young lady meets a rakish merchant captain pursued by a band of Caribbean pirates...what could possibly go wrong?
About the Book

Hart's Desire ~ The Hart Trilogy Book 1
THIS IS BOOK 1 OF A 3 BOOK TRILOGY.
Rakishly handsome and equally exasperating Landon Hart is a sea captain and Freedom Runner-part of a network of people moving runaway slaves to a new life up North.
He's in Charleston for two reasons. He must smuggle a recently escaped group of slaves aboard his ship. The second is to uncover the purpose of a secret meeting his late business partner had arranged at Twin Pines plantation. When he meets a sword-wielding, fiery-haired temptress on the way, he isn't prepared for the impact she has on his tightly guarded heart…nor the trouble she manages to attract.
Fiercely independent and equally impetuous Keelan Grey acts the dutiful daughter on the outside, but inside, she's determined to avoid marriage to a cruel neighboring plantation owner even if it means taking the most desperate measures. Including accepting a marriage proposal to a man she doesn't love.
Action and adventure are on the horizon for both Keelan and Landon when a deathbed confession from a loved one plunges Keelan into a dark plot of deception and revenge.
Desperate for help, Keelan finds an unlikely ally in the antagonistic but irresistible sea captain, Landon Hart. But while she might trust him with her life, can she trust him with her secrets?
Other Books in "Pirates & Petticoats"
Disclosure of Material Connection: Some of the links in the page above are "affiliate links." This means if you click on the link and purchase the item, I will receive an affiliate commission. I am disclosing this in accordance with the Federal Trade Commission's
16 CFR, Part 255
: "Guides Concerning the Use of Endorsements and Testimonials in Advertising."